A SHARED COMMITMENT TO EXCELLENCE IN HEALTHCARE EDUCATION
Founded in January 2008 by Teresa Pinto and Pedro Pinto, Take the Wind (TTW) is a leading company in technology for clinical education, with clients worldwide including major scientific societies, hospitals, medical schools, nursing schools and Continued Medical Education providers as well as top-10 pharma companies in more than 35 countries.
Our mission is to empower healthcare professionals and students towards reducing the impact of clinical errors, every day and everywhere.
With a hugely talented team and with thanks to those who guided and supported us at the beginning of our journey, we have consistently combined science, design and technology to deliver cutting-edge solutions and continuously create value for our clients and business partners.
Body Interact is a clinical system adopted around the world to train learners in decision-making and critical thinking, with lifelike virtual patients, in hundreds of clinical scenarios. Body Interact enables both medical professionals and students to accelerate learning, develop clinical skills and achieve excellence in their performance.
Our vision is to be the most reliable, engaging and widely-adopted clinical education system in the world.
Pedro Pinto
CEO & Co-Founder
As our maestro, Pedro is responsible for keeping everybody happy. "Love the problem and not the solution" is one of his secrets to success. Listen to the market, to the people, discover their concrete needs and make sure the product makes sense.
Teresa Pinto
COO & Co-Founder
Teresa is responsible for establishing the balance between the internal focus of the team and the external desires and needs of the clients. After eleven years in the business, she believes the secret is to spread the confident spirit among the team.
Silvério Sousa Mendes
Chief Business Officer
Silvério's greatest challenge is to raise awareness on the importance of patient safety and reducing medical errors. Just like in an orchestra, he considers that it is important to respect the moments of silence and harmony between the different suits.
Marisa Campos
Admin./Financial Manager
Coffee in the morning and tea at night is what gives Marisa the energy to withstand the demands of perfectionism. With a daily routine that is never the same, she is responsible for both internal and external financial and administrative issues.
Anabela Casaleiro
Scientific Content Developer
Team work and excellence are Anabela driver at work. She believes that the scientific team daily challenge is the research needed to impact the worldwide healthcare community. Due to her persistence, she never quits until the day's objectives are achieved.
Ariana Rodrigues
Nurse – Educational Content Development
With the power of connecting schedules, Ariana became a nurse due to the clinical reasoning demanded. Understand the cause behind the problem is something that challenges our colleague that believes passion for work is the secret for happiness.
Daniela Abreu
Instructional Designer
Inseparable, Daniela and her tea share the same desk all day long. Patience and being a good listener are two of her superpowers; however, if she could choose a new one, she would choose to fly. Professionally, Daniela's most respected value is teamwork.
Diogo Martins
Quality Assurance Engineer
"Only those who dare to fail greatly can ever achieve greatly". That is the greatest lesson Diogo takes from chess. He chooses the owl as his totem. Symbol of vision and knowledge, as the owl, he enjoys hiking and go out to get some fresh air.
Duarte Teixeira
Unity Software Developer
Duarte is from Madeira and like the Portuguese navigators, when he is starting a new challenge, he is afraid of failing but as success appears his confidence rises. The car is the object he chooses to describe his work as it helps us move forward.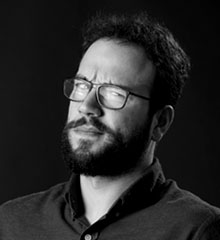 Gonçalo Coelho
Quality Assurance Engineer
Gonçalo was keenly interested in karate: attracted by the spirit of sacrifice and the capacity and perseverance of working alone. Nevertheless, Involvement is for him the most esteemed value, after all the team would all be fighting for the same goal.
Joana Taborda
Nurse – Educational Content Development
Joana is a Nurse and by influence of her father she believes teamwork and respect are the most important values. Used to operate with interdisciplinary teams her favorite book is Blindness, from José Saramago, winner of Nobel Prize in Literature in 1998.
José Nunes
Unity Software Developer
José lived near the mountains and that helped him enjoy the balance between indoor and outdoor activities. Inspired by Carlos Paredes, the greatest master of Portuguese guitarists, José started playing guitar and developed his communication skills.
Lara Franco
Scientific Content Developer
"Love what we do is the essence for connecting with colleagues". For Lara, exchanging knowledge and ideas are the main ingredients of her work. Due to her interest in different cultures, she would choose an Asian country as her next destination.
Luís Lourenço
Software Developer
Always available to help, teamwork is Luis's driver. He always takes 20 minutes from his lunch hour to play electric guitar. However, after leaving all technology at work, he prefers to play football as a strategy to keep equilibrium and motivation.
Maria Oliveira
Clinical Education Advisor
Maria loves to go for a walk and to be in contact with nature. Being empathy her super power, she believes that teamwork is her driver to be motivated and creative at work. As a Disney lover, she follows the rule: "if you can dream it, you can do it".
Márcio Glória
Senior Graphic Designer
Márcio's interest in drawing and painting led him to Design. When facing a creative challenge, he works like a Rubik's Cube solver, focusing on one of the faces of his work at a time. Together with his family he likes to fish and pick up wild mushrooms.
Miguel Correia
Global Business Development Manager
Rebuilding his motorcycle as a scrambler has been Miguel's latest hobby and most recent personal achievement. Originally from the Computer Engineering field, the best part of his day is when a customer gives him some excellent feedback.
Miguel Furtado
Senior Multimedia Designer
From the broadest of perspectives down to the tiny atom of a construction; that is how Miguel sees Design. Influenced by the philosophical component of his studies, our designer teammate believes that passion is the fuel required to achieve success.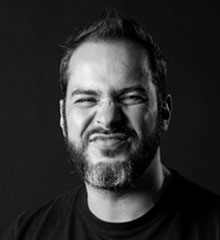 Nuno Pratas
Quality Assurance Engineer (Manager)
Nuno used to be a handball goalkeeper and this helped him develop the ability to pay attention to details. For him, teamwork is very important because team members get stronger, achieve better results and establish a more solid relationship.
Pedro Bastos
Technical Artist (3D)
Pedro is the bridge between TTW's artistic and technical work. As a metaphor, he chooses to combine the paintbrush with the wrench to emphasise the complexity and precision required to create our international team of volunteers, our Virtual Patients.
Pedro Dias
Senior Software Developer (Manager)
Pedro dedication to exploring technologies and games is what empowers him to present solutions. The search for different, better and more interesting ways to solve problems are what allows him to assure the product's progress and its functional delivery.
Pedro Silva
Senior Software Developer (Manager)
Pedro chooses trustworthiness and persistence as the most important values for his daily challenges. Just like Wall-E, the Disney movie character, Pedro is responsible for keeping the system organized, a vital condition for everyone to move forward.
Raquel Bidarra
Marketing Strategist
Passion for work and travel are two of the drivers that motivate Raquel to achieve professional and personal success. Her interest in human behavior helps her appreciate that, no matter how different people are, there are always some points in common.
Raquel Macedo
Senior Software Developer (Manager)
Raquel would love to interview Fernando Pessoa, one of the greatest Portuguese poets. With the superpower of replying to the different tasks inside and outside work, the peace transmitted by nature is what gives her forces to face the daily challenges.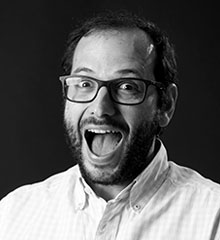 Ricardo Seco
Software Developer
Born in South Africa, Ricardo's native language is English and would love to bring to Portugal the South African joy of living. Rugby, a rough game played by gentlemen was the sport that taught him how integrity and trustworthiness are the two most important values.
Rita Flores
Digital Marketing Assistant
Dream and write are Rita's favorite hobbies. Meet different people and their cultural backgrounds, helps her complete her mission of storytelling. After all, she believes that everyone has one, they just need to have the right person listening to them.
Rita Santos
Quality Assurance Engineer (Manager)
Memory is Rita's astonishing superpower. She thought about being a singer, but her interest on finding solutions led her to Biomedical Engineering. As an ex-gymnast, she brought from sports the importance of knowledge exchange and leaders respect.
Rogério Marques
Scientific Content Developer (Manager)
Taking one-hour walk to work and completely cutting out meat and fish from his diet are two examples Rogério gives due to his environmental concerns. From pathology and physiology to pharmacology, he identifies this diversity as his daily challenge.
Tiago Rocha
Software Engineer
Tiago believes that knowledge is his superpower and passion what drives him. Software architecture is the concept he likes to share with the team. In other word, work on a common agreement in order to keep the work progress focused on a common goal.
WE HAVE EXPERIENCE WITH A WIDE RANGE OF COMPLEX, LARGE-SCALE SOLUTION DEPLOYMENTS AND OUR CUSTOMER-DRIVEN DEVELOPMENT ENSURES EFFICIENT
SOLUTIONS THAT MAKE A DIFFERENCE IN OUR USERS' DAILY WORK.
BEST PRODUCT IN SHOWAWARD
BEST PRODUCT IN SHOW AWARD
Best Product in Show Award, IMSH 2016 (International Society of Medical Simulation), San Diego
BORN FROM KNOWLEDGE AWARD 2018
BORN FROM KNOWLEDGE AWARD 2018
Recognition of scientific excellence allied to social and economic impact given by the National Agency of Innovation of Portugal
WORLD SUMMIT AWARD 2018
WORLD SUMMIT AWARD 2018
United Nations based Global Award initiative selecting and promoting outstanding digital innovations with a positive impact on society
EUROPEAN UNION SEAL OF EXCELLENCE AWARD
EUROPEAN UNION SEAL OF EXCELLENCE AWARD
Certificate delivered by the European Commission for project proposal 822876 / Body Interact / SME Instrument (2018-2020)
MEMBER OF THE CORPORATE ROUND TABLE OF SSH
MEMBER OF THE CORPORATE ROUND TABLE OF SSH
Society for Simulation in Healthcare seeks to improve performance and reduce errors in patient care through the use of simulation.
EUROPEAN SEAL OF e-EXCELLENCE AWARD
EUROPEAN SEAL OF e-EXCELLENCE AWARD
EMF 2012 Award "Seal of European e-Excellence in Digital Media" (first prize)
SME EXCELLENCY AWARD 2016
SME EXCELLENCY AWARD 2016
SME EXCELLENCY AWARD 2017
SME EXCELLENCY AWARD 2017
SME EXCELLENCY AWARD 2018
SME EXCELLENCY AWARD 2018
DELOITTE TECHNOLOGY FAST 500™ 2017 AWARD
DELOITTE TECHNOLOGY FAST 500™ 2017 AWARD
DELOITTE TECHNOLOGY FAST 500™ 2019 AWARD
DELOITTE TECHNOLOGY FAST 500™ 2019 AWARD
GAZELLE COMPANY 2017
REFERENCE SCIENTIFIC PARTNERS
Projetos Co-Financiados pela UE
Projeto n.º: 22370
Designação: Body Interact em ambiente pré-hospitalar
Objetivo Principal: Reforçar a investigação, o desenvolvimento tecnológico e a inovação